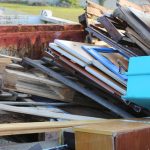 As the saying goes, one person's trash is another person's treasure. If you're a reader in Michigan with an interest in repurposing junk and giving new life to discarded items, you've come to the right place. In this blog post, we will explore creative ways to repurpose common household junk, showcasing how you can turn trash into treasure.
1. Upcycled Furniture
Before throwing away old furniture, consider giving it a new lease on life through upcycling. With a little creativity and some basic DIY skills, you can transform tired old chairs, tables, and dressers into unique and stylish pieces. Sanding, painting, reupholstering, or adding decorative elements can completely revitalize furniture whilst adding a personal touch.
2. Garden Art
The garden offers abundant opportunities for repurposing junk and turning it into eye-catching art. Consider transforming old kitchen utensils into wind chimes, using glass bottles as decorative vases, or repurposing tin cans as plant holders. Get creative and let your imagination run wild – the possibilities are endless when it comes to incorporating junk into your garden decor.
3. Jewelry from Oddities
If you have a box of mismatched buttons, broken earrings, or vintage trinkets, you can repurpose them into unique, one-of-a-kind jewelry pieces. With some wire, pliers, and your imagination, you can create stunning necklaces, bracelets, and earrings. Don't be afraid to experiment and mix different materials together – you never know what kind of dazzling jewelry you might concoct!
4. Lighting Fixtures
Turn old and forgotten objects into captivating lighting fixtures. By repurposing items such as colanders, mason jars, or wine bottles, you can create truly unique and ambient lighting options for your home. With a simple lighting kit and a little ingenuity, you can transform discarded junk into conversation-starting sources of illumination.
5. Quirky Planters
Repurposing containers into planters adds a touch of whimsy to your home or garden. Get creative by planting flowers or succulents in old teapots, rain boots, or even shoes. These unconventional planters not only breathe new life into discarded items but also serve as delightful conversation pieces for visitors.
6. Organization and Storage Solutions
If you're tired of dealing with clutter, repurposing junk can offer ingenious storage solutions. Transform old wooden crates into stylish shelving units or use vintage suitcases as unique storage containers. Not only will you gain extra space to keep your belongings organized, but you'll also add a touch of character and charm to your living space.
7. Artwork from Scrap Materials
Unleash your inner artist and create stunning artwork using scrap materials. Broken tiles can be transformed into colorful mosaic displays, old magazines can become collage masterpieces, and discarded wood scraps can be shaped into unique wall art. Not only will your creations be visually appealing, but they will also carry the story of the repurposed materials.
8. Vintage Decor
Repurposing old junk is an excellent way to incorporate vintage charm into your home decor. Turn vintage suitcases into coffee tables, transform old ladders into rustic bookshelves, or use antique drawers as wall shelves. Integrating repurposed vintage items adds character and history to your living space while honoring the craftsmanship of the past.
Conclusion
Don't underestimate the hidden potential of household junk. By repurposing these items, you can unleash your creativity and turn trash into treasure. From upcycled furniture to quirky planters, lighting fixtures to artwork, the possibilities for repurposing junk are limited only by your imagination. So the next time you're tempted to toss something out, take a moment to consider how you can transform it into something unique and beautiful. Get inspired by these ideas and start repurposing junk to create a more sustainable and creative world.
Got Questions? Let Us Help!
Mike's Junk Hauling is your local full service professional at junk removal, trash removal, garbage collection service, and waste removal services! We offer trash removal, junk removal, and site clearing services. We offer quick and affordable trash hauling services away from your home or business! We offer junk hauling, trash hauling, garbage hauling, waste hauling, rubbish hauling, junk removal, trash removal, garbage removal, waste removal, rubbish removal, junk pickup, trash pickup, garbage pickup, waste pickup, rubbish pickup, garbage collection service, and more. So, if you have excess junk, debris, clutter, are moving, or have any reason to have it picked up then give us a call today!